Knowledge Center Bot
Overview
Knowledge Center Bot is an on-boarding assistant that guides users in learning your product. The Bot contains links to engagements and external URLs in order to effectively onboard new users as well as educate existing users. The goal of knowledge center bot is to allow users to see the list of all engagements in one place for quick and easy reference. This improves your customer satisfaction by increasing accessibility to in-app experiences.
Login to Gainsight PX and Page Navigation
Login to Gainsight PX with your personal credentials. Gainsight PX Dashboard is displayed.
Click the Knowledge Center Bot icon on the left pane.
Clicking Knowledge Center Bot navigates you to the Content page where you can create your knowledge center bot.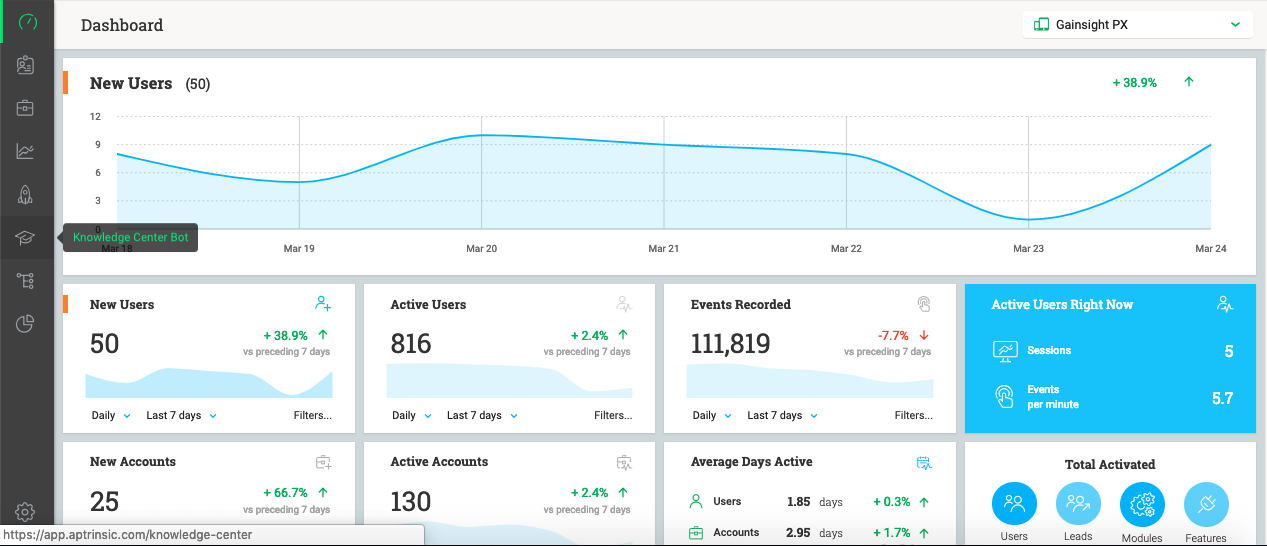 Make sure that In-App engagements are already built using Triggered By > Knowledge Center or Automatic & Knowledge Center, before you create a New bot.

If engagements are created and linked to knowledge center bot, Content page displays as below.
A list of all engagements is displayed in the content page, regardless of the engagement status whether it is Active, Deactive, Paused, Editing, etc.
Also, you can group these in-app engagements under specific category by creating a name in the Category column. For Example, if you have engagements related analytics, create a category with name Analytics and then you can group all the engagements which come under Analytics.
If you own a knowledge center base of support articles and want to track the most relevant/least relevant search terms and docs, you can place a custom event script to track and run the Query Builder. A property can be the title of the article.
Select the Add checkbox(es) of the required engagement to start building a widget.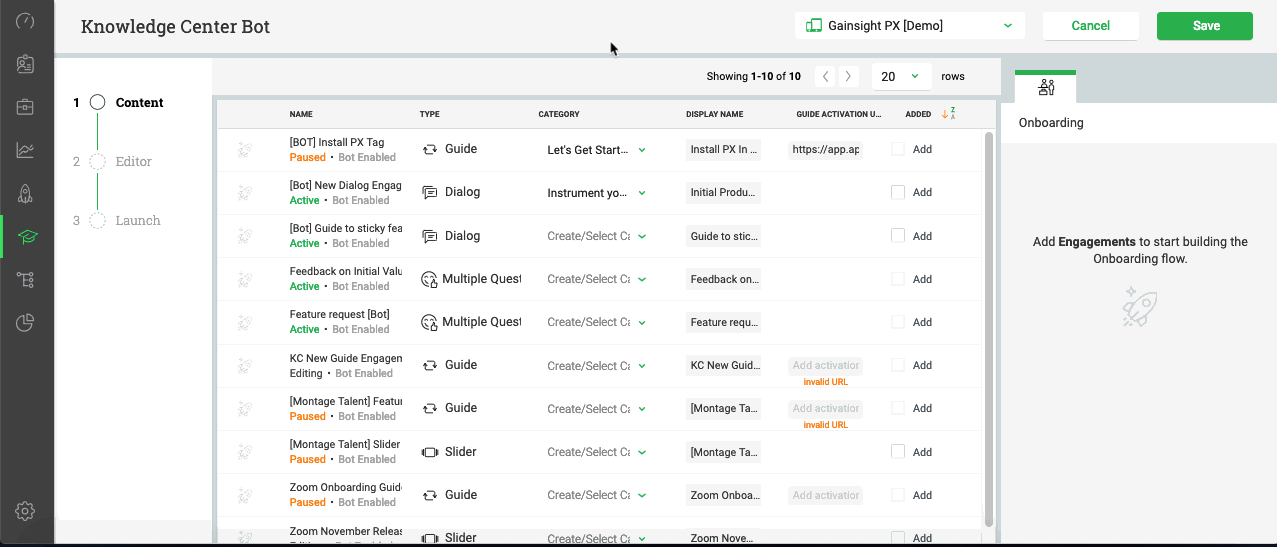 If multiple In-App engagements are added, these can be reordered simply by dragging and dropping as required.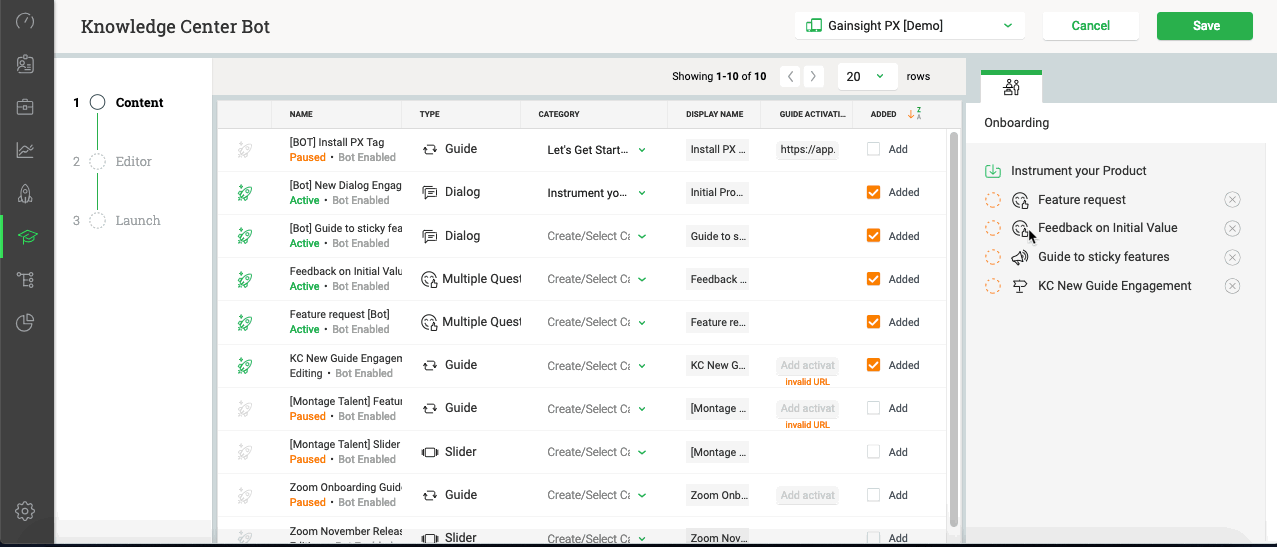 If you want to launch Knowledge Center Bot to a specific audience, you can give a label to engagements under
Category
column. For Example,
New Users
,
Existing Users
, etc..For more information about how to organize engagements, refer to the
Organize Engagements
best practices article.
Enter URL in the Guide Activation URL column to trigger the guide on specific page first. For example, if you want to trigger a guide on http://example.com/b URL and you are on http://example.com/a URL, Gainsight PX will first navigate you to Guide Activation URL http://example.com/b and shows the guide there.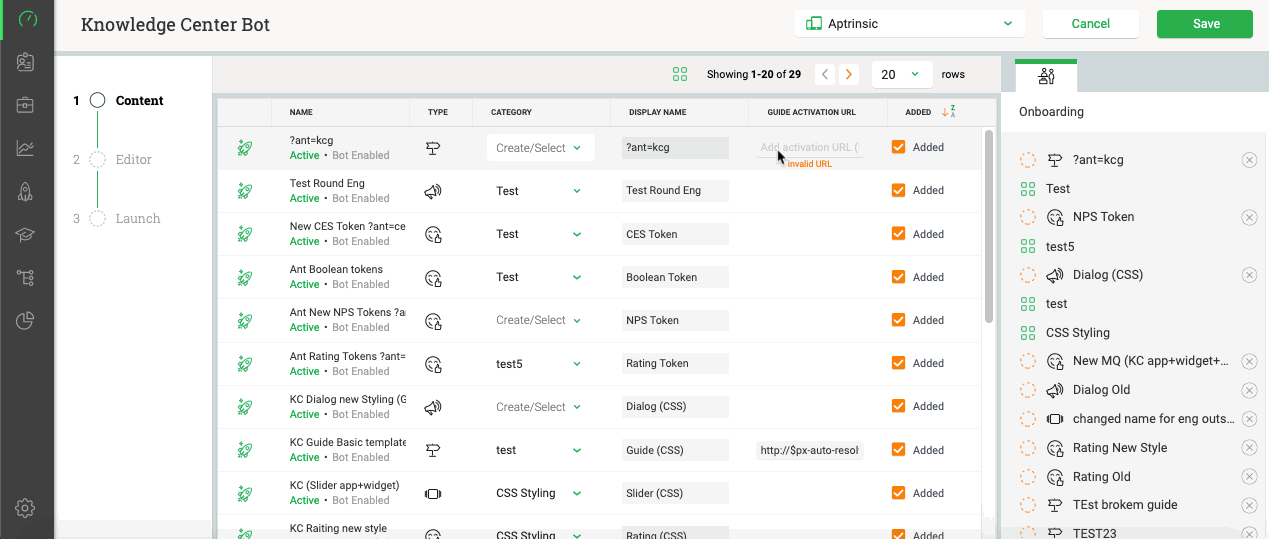 Click Editor. This displays the following page with various options:
In the Settings tab, format the Header background and Content color and background for your knowledge center bot, as required.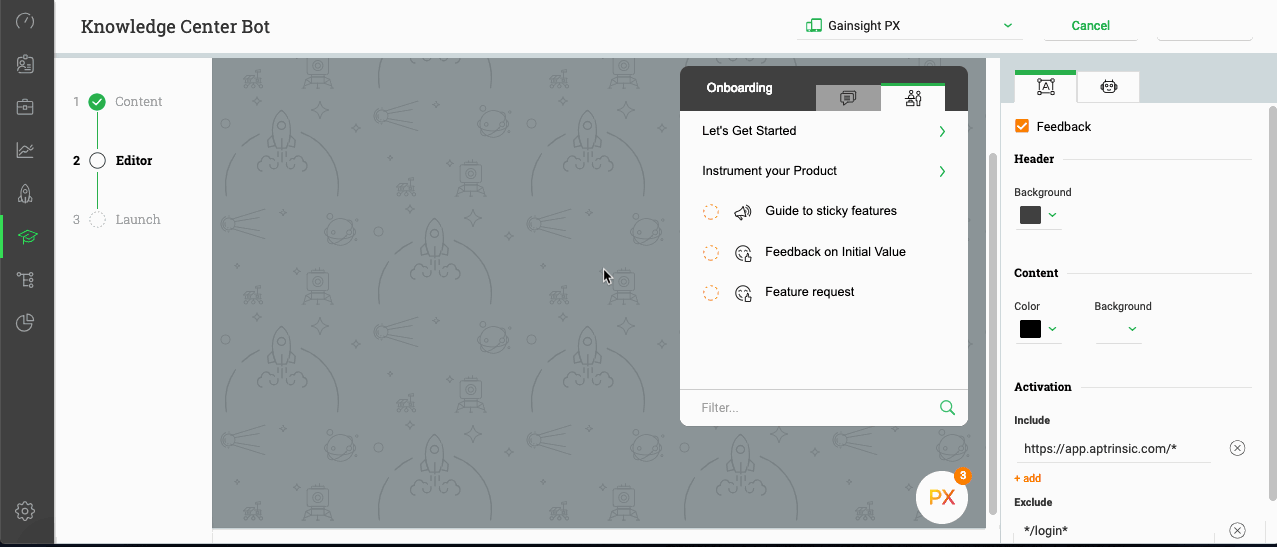 Click Feedback checkbox to enable it. So that, you can allow your customers to provide their feedback.
To configure:

Select the Feedback checkbox. A new tab called Your Feedback appears on the bot.
Click Your feedback icon on the bot.

Once the above configuration is done, users will be able to select the feedback category from the Select category dropdown list, and submit their feedback from the below category list.

Issue
Feature Request
General Feedback
Other
For more information about feedback analytics, refer Gainsight PX User Feedback API article.
In the Bot Settings tab, select the text color or background color for the Bot badge and Close badge. The Bot is the icon that appears in the customer's application and provides users with access to the Knowledge Center Bot. You have multiple options available from which you can select the desired Bot icon.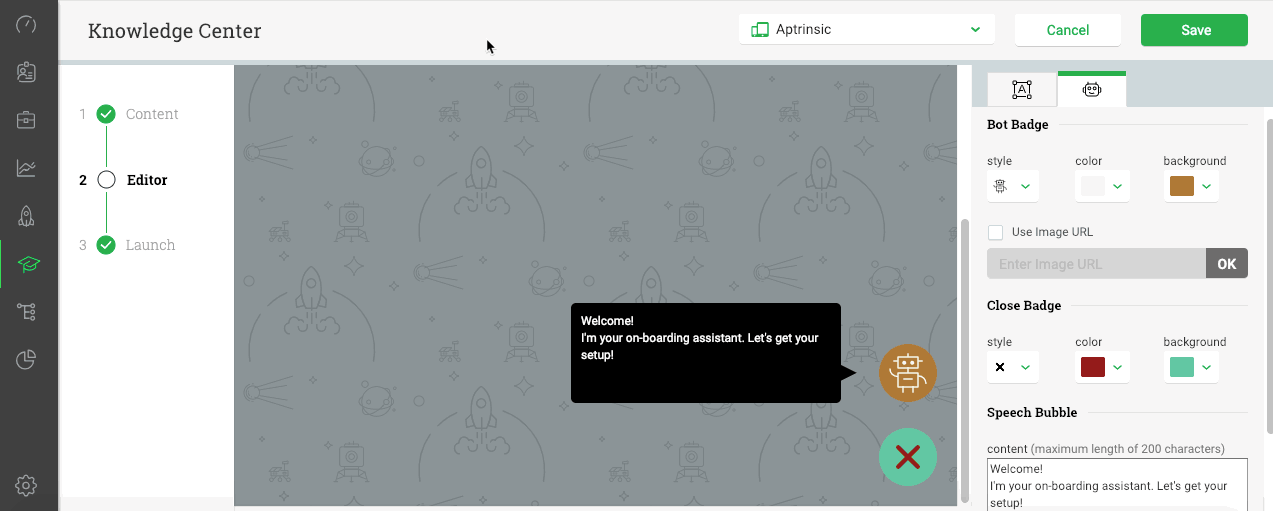 To add customised bot icon, select the Use Image URL checkbox and enter the image URL. Click OK.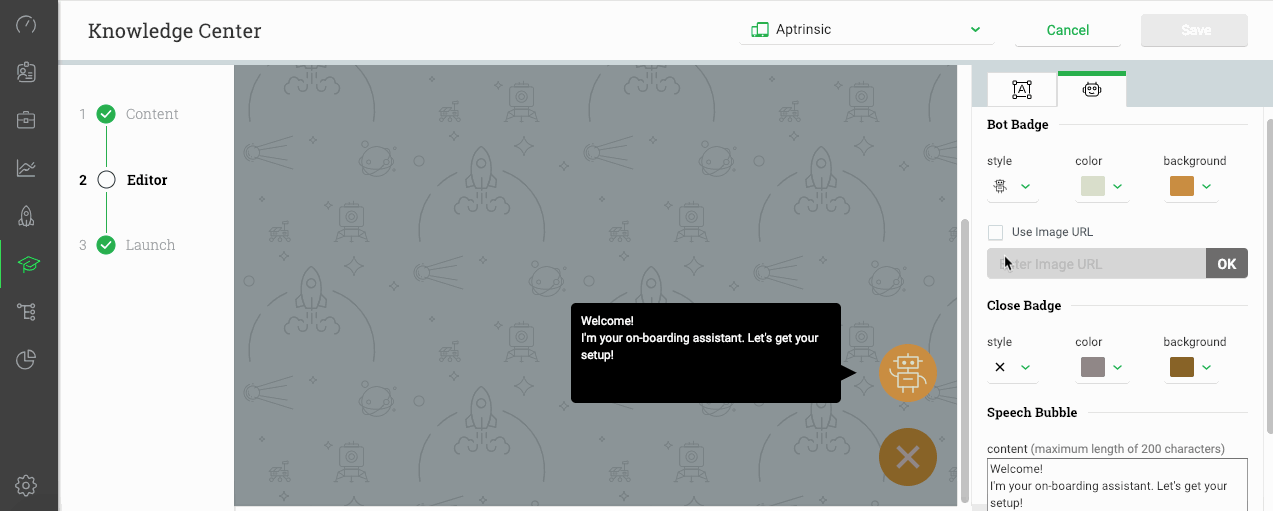 Enter text in the Speech Bubble field to help end-users understand the widget's purpose and format the text color or background color, as required.

Click Save.
Click Launch as shown below.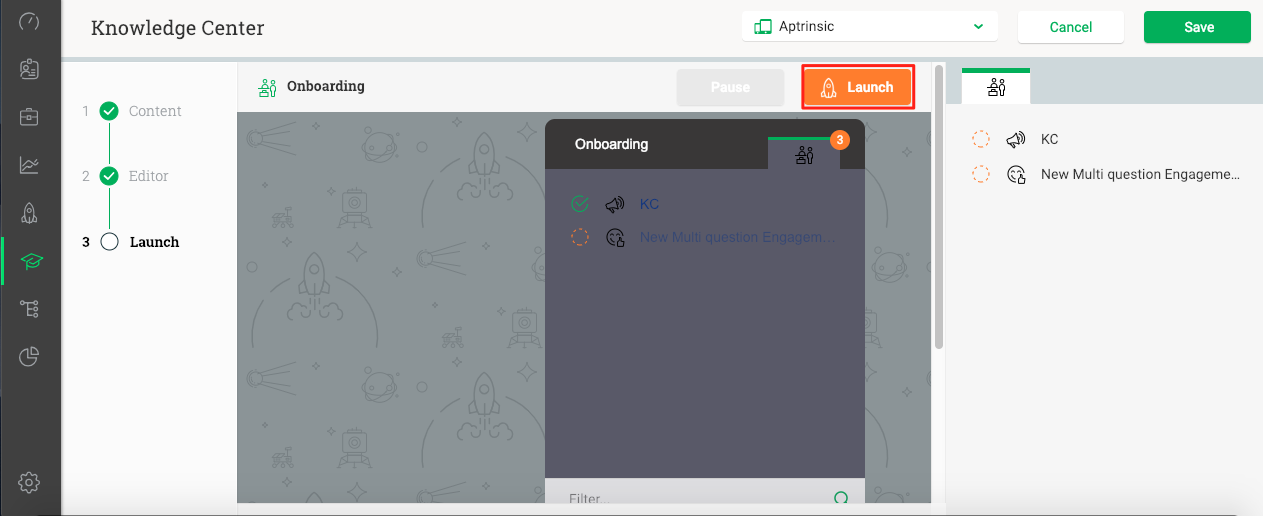 ---
---