Release Notes February 2019
New Features
Knowledge Center Bot
Knowledge Center Bot is an on-boarding assistant that guides users in learning your product. The Knowledge Center contains links to engagements and external URLs in order to effectively onboard new users as well as educate existing users.
This feature Improves customer satisfaction by increasing accessibility to in-app experiences. This also enables on-boarding sequences, track individual progress, auto-suggest steps, and code free customisation. Admins, new/existing customers (end-users) are the intended users of this feature. Click Knowledge Center from the left pane, as shown in the following image.
Clicking Knowledge Center navigates you to the Content page where you can create your first Knowledge Center. For the detailed information about how you can create Knowledge Center, refer to the Knowledge Center article.
Slack Integration
Slack integration increases engagement, product stickiness, and visibility by pushing internal/external usage notifications directly to Slack. Your team can now get an immediate slack notification about user feedback such as NPS, CES, rating, feature request, signup or engagement launched. For example: If any engagement is created, paused or launched slack automatically sends you a notification as shown below.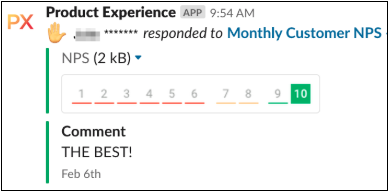 Enhancements
Engagements
Engagements are the communications that are executed through product or emails against a specific set of audience at the specific time. These communications can be interactive in nature that helps you in sharing information, receiving feedback, engaging customers with your product. The overall goal of using engagements is to increase the product usage of your customers.
There are five types to build an engagement:
Dialog
Slider
Guide
Email
Survey
Enter the desired name for the engagement (For example: New Dialog Engagement) and Click Create.
Select your desired template and click Preview.
Click Use.
Customize the template from the Editor page.
Enhanced to introduce CSS styling tab: With this enhancement,
a) User can write his own CSS to customize engagements more easily.
b) For each engagement, user can modify default style. In addition, user can define classes in the HTML editor and use the styling to reuse his CSS rules.
There are three different styles applied for every engagement:
Core: A list of CSS rules that helps to avoid collision for different Data Object Model (DOM) elements in the engagement (this is hidden and user cannot see it).
Default: A list of default rules pre-defined per engagement type.
Override: User-defined CSS rules. By default, user sees the pre-defined style in this tab.
Product Mapper
Product Mapper is an easy way to describe your product features. All product usage events captured in real time using Product Mapper. Also you can instrument any user behaviour in your product by creating modules and features. For example: you can organize by modules and features or you can nest sub-modules under modules and add features at any level.
Enhanced to introduce Backfill feature: With this enhancement, user has the ability to do a feature backfill through the UI. User will be able to choose module/feature and execute historical matching against this feature.
Feature Request Tracking
You'll be able to collect and track feature requests directly from your users to better prioritise your roadmap! <<Detailed content is updated soon>>
We will be back soon with another set of enhancements, new features, or fixes! Until then, Stay tuned..!
---
---